Sip & Sizzle (Every Fri, Sat, & Sun in May)
Vehicle Wine Tours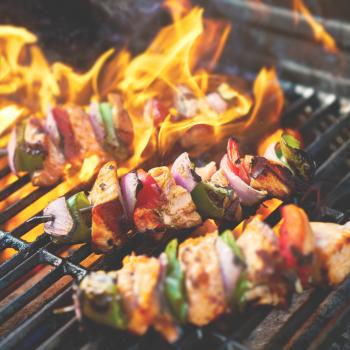 What could be better than a spring weekend afternoon with a few friends, a BBQ, and some fine wine?? How about if we do the hosting, and you don't have to drive home! Join us for Sip & Sizzle 2023, as we guide you to 8 of our favorite Niagara on the Lake wineries, where each of them will prepare a delicious BBQ grilled dish, perfectly paired with a VQA wine. This is a great way to discover some of the very best Niagara on the Lake has to offer!
Tour Includes:
Pick up and drop off from your accommodation (Niagara on the Lake or Niagara Falls)
Fun & Knowledgeable Grape Escape Tour Guide with you throughout your tour
Visit 8 (eight) award winning VQA wineries
Enjoy a BBQ/Grilled Food & Wine Pairing at each location
THIS IS A GROUP TOUR (YOU WILL BE PART OF A GROUP OF MAXIMUM 20 GUESTS)
IF YOU ARE LOOKING FOR A PRIVATE TOUR, PLEASE EMAIL OFFICE@TOURNIAGARAWINERIES.COM FOR A CUSTOM QUOTE
Tours Daily – 11.00am – 5.00pm approx
** We do not include any Tour Guide gratuity in our pricing, we don't believe in prepaid gratuities and want to ensure you have a great day first! **
Sample Itinerary
Hotel Pick Up (10.30am Niagara Falls, 11am NOTL)
11.00am - Food & Wine Pairing
11.45am - Food & Wine Pairing
12.30pm - Food & Wine Pairing
1.15pm - Food & Wine Pairing
2.00pm - Food & Wine Pairing
2.45pm - Food & Wine Pairing
3.30pm - Food & Wine Pairing
4.15pm - Food & Wine Pairing
Return to Hotel (5pm NOTL, 5.30pm Niagara Falls)
Cancellation Insurance
We offer Cancellation Insurance ($10 per person) for all Tour Reservations, this can either be purchased at the time of booking, or you can also add this on within 24 hours of making a reservation.
With Cancellation Insurance your are able to cancel your tour, so long as we receive at least 72 hours notice, and receive a FULL refund for the tour cost, less the Cancellation Insurance Fee. All cancellations must be made in writing, by email replying to your Tour Reservation confirmation. We will then confirm by email that your request for cancellation has been received and processed. When you receive this confirmation, the refund will typically show on your card statement within 5-7 Business Days.
See our Cancellation Policy below to decide if you would like to add this on;
Cancellation Policy
IF YOU BOOKED THROUGH A THIRD PARTY, THEIR CANCELLATION POLICY WILL APPLY
ALL TOURS ARE 100% NON-REFUNDABLE IF PURCHASED WITHOUT CANCELLATION INSURANCE, BUT CAN BE RESCHEDULED FOR ANY DATE IN THE NEXT 12 MONTHS SUBJECT TO AVAILABILITY.

WE NEED AT LEAST 24 HOURS NOTICE FOR ALL REQUESTS TO RESCHEDULE, WHICH MUST BE MADE IN WRITING, BY EMAIL.

ANY TOUR PURCHASED WITH CANCELLATION INSURANCE WILL BE 100% REFUNDABLE (LESS THE CANCELLATION INSURANCE FEE) IF CANCELLED WITH 72 HOURS NOTICE.

CANCELLATIONS MUST BE MADE IN WRITING, BY EMAIL.

We accept VISA & MasterCard. Prices are quoted in Canadian dollars unless otherwise stated. The individual booking the tour is ultimately responsible for payment for the entire group.
Booking Options
$179.00 / per person
Pick up in Niagara on the Lake
$199.00 / per person
Pick up in Niagara Falls