Morning Vehicle Tour
Vehicle Wine Tours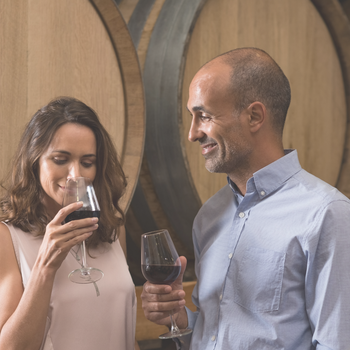 The Morning Tour is a great option to give you the afternoon to enjoy Niagara on the Lake! You will visit 3 different wineries along your route, at each stop you will recieve a Wine Tasting Flight of 3 different wines (a total of 9 samples throughout the day).
Tour Includes:
Pick up and drop off from your accommodation
Fun & Knowledgeable Grape Escape Tour Guide with you throughout your tour
Visit 3 award winning VQA wineries
Taste a minimum of 9 wines (including Icewine)
PLEASE NOTE NO FOOD IS PROVIDED ON THIS TOUR
If you have visited us previously please let us know in the extra information box the wineries you have already been to and we will try our very best to plan a different route for you.
PLEASE NOTE, ALL TOURS BOOKED ARE "GROUP TOURS" (NOT PRIVATE)
IF YOU ARE LOOKING FOR A PRIVATE TOUR, PLEASE EMAIL OFFICE@TOURNIAGARAWINERIES.COM FOR A CUSTOM QUOTE
Tours Daily – 9.45am – 1pm approx
** We do not include any Tour Guide gratuity in our pricing, we dont believe in prepaid gratuties and want to ensure you have a great day first! **
Sample Itinerary
9.45am - NOTL Hotel Pick Up or meet at Grape Escape HQ
10.00am - Wine Tasting
11.00am - Wine Tasting
12.00pm - Wine Tasting
1.00pm - Return
**Please Note the Morning Tour only offers Pick Up from Niagara on the Lake (within 5km of Queen Street),
or you can meet at our HQ at 1627 Niagara Stone Road **
*IMPORTANT COVID-19 INFORMATION*
*PLEASE READ BEFORE BOOKING*
"Proof of Vaccination" - Starting September 22nd 2021, Niagara wineries and restaurants will be required to request "Proof of Vaccination" for any indoor wine tasting and restaurant experiences. At this time Grape Escape Wine Tours will not require the "Proof of Vaccination" to participate in our Wine Tours, however, in order to ensure you are able to receive the full experience of your specific tour, and plan our routes and experiences accordingly, we will need confirmation if the whole group meets the requirements to participate as part of indoor tasting/dining experiences. PLEASE ADVISE AT THE TIME OF BOOKING IN THE "EXTRA INFORMATION" BOX

Waiver Forms -

ALL Guests will be sent a Waiver Form to complete prior to your tour date. The waiver must be completed by all members of your group in order to join the tour. We are taking this precaution for the safety of all Staff, other Guests, and also the Winery and Restaurant Staff.

Masks -

Our Tour Guides will all be wearing masks whilst driving your vehicles, and anywhere deemed appropriate based on current federal and provincial guidelines. All Guests will be required to wear masks whilst on board a Grape Escape Vehicle travelling between wineries. The Niagara Region has now also mandated that masks must be work when entering any indoor spaces, you will be required to wear a mask as you enter any indoor tasting rooms until you begin your wine tasting. Please bring your own masks if possible, they will be provided by us if needed.

Social Distancing - We ask that all guests wherever possible maintain social distancing between social "bubbles" when indoors and on site at Grape Escape HQ, if you are booking for less than 10 people you will be travelling with other guests between wineries, and have the same server at each of the winery stops, and seating will be at the same table for the wine tastings.
Cancellation Policy
ALL TOURS ARE 100% NON-REFUNDABLE IF PURCHASED WITHOUT CANCELLATION INSURANCE, BUT CAN BE RESCHEDULED FOR ANY DATE IN THE NEXT 12 MONTHS SUBJECT TO AVAILABILITY.
WE NEED AT LEAST 72 HOURS NOTICE FOR ALL REQUESTS TO RESCHEDULE, WHICH MUST BE MADE IN WRITING, BY EMAIL.
ANY TOUR PURCHASED WITH CANCELLATION INSURANCE WILL BE 100% REFUNDABLE IF CANCELLED WITH 72 HOURS NOTICE.
CANCELLATIONS MUST BE MADE IN WRITING, BY EMAIL.
We accept VISA & MasterCard. Prices are quoted in Canadian dollars unless otherwise stated.
The individual booking the tour is ultimately responsible for payment for the entire group.
Booking Options
$89.00 / per person
Niagara on the Lake "Old Town" Locations Only