Lunch & Winery Bicycle Tour
Bicycle Wine Tours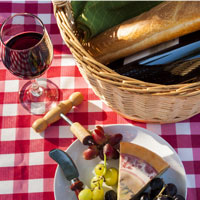 What better way to see Niagara Wine Country than by bicycle. Our experience tour guides will lead you through beautiful trails, along the Niagara Parkway and into many of the wineries in the area! Our fleet of bicycles are maintained to the highest standard and mainly consist of Fuji Crosstown 2 & Crosstown 3 to ensure your comfort for the 20km-25km ride!
With so many changes to the way our company and the wineries are operating this year with the impact of COVID-19, we have had to make a few changes to this tour for the 2021 season.
Reduced capacity on our tours, as well as limited space and availability at the wineries means that this season will be very different but even more AWESOME! We look forward to being able to offer a luxury experience in a more relaxed and informative environment. We won't be seeing bustling crowds, huge tour busses, and big line ups at the cash to purchase the amazing wines you will taste. These new tours, and new experiences will give both us and the wineries the chance to really spend time with you, get to know your preferences and be able to focus even more on the exceptional guest experience that Grape Escape Wine Tours has always been proud to offer!
Tour Includes:
Bicycle Rental (with small basket & bottle cage)
Helmet (feel free to bring your own if you prefer)
Fun & Knowledgeable Grape Escape Tour Guide with you throughout your tour
Visit 4 award winning VQA wineries - ITINERARY VARIES DAILY
Taste a minimum of 12oz of wine (including Icewine)
Delicious Lunch at one of our favourite wineries inlcuding one glass of wine with lunch
Complimentary pick up of any wine purchases made throughout the day
If you have visited us previously please let us know in the extra information box the wineries you have already been to and we will try our very best to plan a different route for you.
PLEASE NOTE LUNCH SEATING IS IN GROUPS OF UP TO 8 PEOPLE
Tours Daily April through October – 10:45am – 5:00pm approx
** Bicycle Tours are conducted rain or shine - Please dress for the weather! **
** We do not include any Tour Guide gratuity in our pricing, we don't believe in prepaid gratuities and want to ensure you have a great day first! **
Sample Itinerary
10.15am - Meet at Grape Escape Tour Centre
10.30am - Bicycle Fitting
11.15am - Wine Tasting
12.15pm - Wine Tasting
1.00pm - Lunch
2.15pm - Wine Tasting
3.15pm - Wine Tasting
4.15pm - Return to Tour Centre
*IMPORTANT COVID-19 INFORMATION*
*PLEASE READ BEFORE BOOKING*
Waiver Forms -

ALL Guests will be sent a Waiver Form to complete prior to your tour date. The waiver must be completed by all members of your group in order to join the tour. We are taking this precaution for the safety of all Staff, other Guests, and also the Winery and Restaurant Staff.

Masks -

Our Tour Guides will all be wearing masks whilst driving your vehicles, and anywhere deemed appropriate based on current federal and provincial guidelines. All Guests will be required to wear masks whilst on board a Grape Escape Vehicle travelling between wineries. The Niagara Region has now also mandated that masks must be work when entering any indoor spaces, you will be required to wear a mask as you enter any indoor tasting rooms until you begin your wine tasting. Please bring your own masks if possible, they will be provided by us if needed.

Bicycle Helmets -

We will continue to offer Bicycle Helmets as part of the tour price have always and will continue to thoroughly sanitize the helmets after use. We will however strongly encourage guests to bring their own bicycle helmet to use.

Social Distancing - We ask that all guests wherever possible maintain social distancing between social "bubbles" when indoors and on site at Grape Escape HQ, if you are booking for less than 10 people you will be travelling with other guests between wineries, and have the same server at each of the winery stops, and seating will be at the same table for the wine tastings and lunch.
Cancellation Policy
ALL TOURS ARE 100% NON-REFUNDABLE IF PURCHASED WITHOUT CANCELLATION INSURANCE, BUT CAN BE RESCHEDULED FOR ANY DATE IN THE NEXT 12 MONTHS SUBJECT TO AVAILABILITY.
WE NEED AT LEAST 72 HOURS NOTICE FOR ALL REQUESTS TO RESCHEDULE, WHICH MUST BE MADE IN WRITING, BY EMAIL.
ANY TOUR PURCHASED WITH CANCELLATION INSURANCE WILL BE 100% REFUNDABLE IF CANCELLED WITH 72 HOURS NOTICE.
CANCELLATIONS MUST BE MADE IN WRITING, BY EMAIL.
We accept VISA & MasterCard. Prices are quoted in Canadian dollars unless otherwise stated.
The individual booking the tour is ultimately responsible for payment for the entire group.
Pickup/Booking Options
$129.00 / per person
Lunch Bicycle Tour