Days of Wine & Chocolate 2018
January 23, 2018 @ 4:38am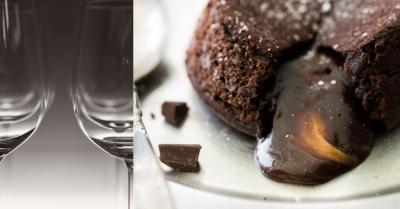 Explore the decadently sweet and savoury art of wine and chocolate pairing. Let Grape Escape guide you through the Niagara on the Lake wineries to taste some amazing VQA wines matched with chocolate-infused dishes - from classically sweet flavour combinations to unexpected surprises. A romantic celebration for two or a great reason for a girls' getaway weekend!
tour includes:
Pick up and drop off from your accommodation
Fun & Knowledgeable Grape Escape Tour Guide with you throughout your tour
Visit a number of wineries for Wine & Food Pairings, all involving chocolate! (we usually make it to 10 - 16 wineries per day)
Pricing includes the "Discovery Pass" which is your ticket to the Food & Wine Pairing
2018 Pairings;
2016 Luminous Red paired with chocolate-covered smoked bacon drizzled with white chocolate, lightly dusted with sea salt and cracked black pepper. (GF)
2013 Cabernet Sauvignon paired with black dates pastry with walnut and chocolate.
JACKSON TRIGGS NIAGARA ESTATE WINERY
2016 Grand Reserve Pinot Noir paired with smoked chicken and chocolate cheddar panini with mushrooms and preserved cherries.
2013 Pinot Noir Reserve paired with Ghirardelli dark chocolate rye cookies with a dusting of Maldon salt snow, created by Casa Mia Ristorante.
2015 FRESH Perspectives Satin Red paired with a dark chocolate cheesecake. (V)
NIAGARA COLLEGE TEACHING WINERY
2016 Tom Thomson Algonquin Red paired with dark chocolate & red wine housemade beef salami with elderberry jam and Evelyn's cracker.
2015 Private Reserve Cabernet Franc paried with dark cherry, juniper & rosemary guanaja chocolate truffle (V).
2016 Sand and Gravel Cabernet Franc paired with winter spiced chili brownies (V).
RIVERVIEW CELLARS ESTATE WINERY
2012 Cabernet Sauvignon paired with Tuscan styled pulled pork on a chocolate cayenne crostini, chocolate cabernet balsamic drizzle.
2013 Stratus 'Weather Report' Red paired with cocoa crostini with chocolate ricotta and charred radicchio.
2016 Trius Cabernet Sauvignon paired with spiced chocolate chili beef.
NV Brut Sparkling, Mèthode Traditionelle paired with bread pudding with white chocolate drizzle. (V)
2015 Crown Land Red, VQA Niagara-on-the-Lake paired with a Tide & Vine creation: red wine fudge brownie topped with maple candied bacon.
2014 Reserve Merlot paired with dark chocolate chili with white chocolate sour cream and green onions (GF).
2014 Merlot Forte paired with Tuscan chocolate panna cotta.
2013 Chardonnay Brickyard with white chocolate covered salted pretzel with caramel drizzle.
2015 Gold Series Cabernet Sauvignon paired with a chocolate truffle, with layers of dark chocolate-Cabernet Sauvignon infused ganache and jelly. (V, GF)
2016 Lakeshore Red paired with gluten-free chocolate cake with crunchy nut bits and drizzled with caramel sauce. (V, GF)
2015 Select Late Harvest Vidal paired with a double chocolate macaroon (V).
2014 Chardonnay Reserve paired with Harvest Barn lobster bisque topped with white chocolate shavings.
2015 Chardonnay paired with roasted parsnip and white chocolate soup.
2015 Big Ideas Cab Franc paired with Cabernet Franc infused chili brownie or Cabernet Franc infused cherry ganache brownie.
2014 Premium Merlot paired with a Savoury Chocolate Trio: mushroom with chocolate sauce; cocoa & spice dusted pork; and, dark chocolate dipped potato chip. (GF)
WAYNE GRETZKY ESTATES WINERY & DISTILLERY
2016 Wayne Gretzky Founders Merlot paired with a dark chocolate truffle pop (V)
Links
Comments
Back