Icewine Festival - January 2015!
January 3, 2015 @ 8:58am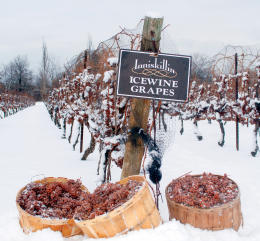 Canada is one of the few countries in the world that has the varying climate be able to produce Icewine. The Niagara Region has been making Icewine since 1984 and has perfected the art of Icewine production.... If you have not been lucky enough to try it yet then the Niagara Icewine Festival 2015 is the perfect chance!
With over 30 wineries to choose from, each of them pairing a selection of their delicious Icewines with a specially created food. The experience combines culinary excellence with the delectable dessert that is Icewine itself!
Here at Grape Escape Wine Tours we provide a "Designated Driver" service so you can fully enjoy all of the amazing, award winning Icewines available to sample without the worry of having to find your way between wineries, and so you can try as many wines as you like!
Let our friendly and knowledgable guides escort you on your day to ensure you get the most from your trip to Niagara on the Lake.
We offer transportation between 11am and 5pm on the days of the event and all our transportation services include pick-up & drop-off from any local hotel (Niagara on the Lake or Niagara Falls)
Each "Discovery Pass" gives the holder 8 sample vouchers to visits 8 different wineries for the Icewine & Food Pairings. We can purchase the Discovery Pass for you or if you already have it you can just book the transportation.
Pricing;
$69 + Tax per person - Transportation Only
$109 + Tax per person - Transportation & Icewine Discovery Pass
Dates of Event : January 9th - 11th, 16th - 18th, 23rd - 25th
Call us on 1-866-935-4445 to book or email Rich at rich@tourniagarawineries.com for more information
Comments
Back