An Eco-Friendly Way To Taste Wine In Niagara
March 20, 2018 @ 7:49am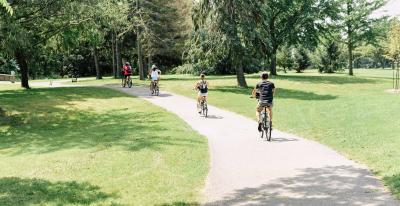 An Eco-Friendly Way To Taste Wine In Niagara
If you're looking for a unique way to spend time in Niagara-on-the-Lake but don't want to leave a hefty carbon footprint behind you, why not take a wine tour around this region? Not only is it an eco-friendly way to explore the quiet bike trails with amazing views of Niagara, but it also means you can combine it with strolls around award-winning vineyards and sample local wines at the same time.
Ditch the car and ride a bike
Biking is a fantastic alternative to wine tasting in a car because it will offer you the chance to slow right down, celebrate Niagara's wine region and enjoy the fresh air and scenery. Experienced guides will help you choose the right bike for you and they'll have a variety of types according to your height, age, comfort and durability. Most tours cater for riders of all abilities and endurance so if you feel that you can't cope with a mega long tour, you can opt for another shorter one. An added bonus is that you don't have to worry about drink driving and you can have a lot of fun being more aware of your surroundings without impacting on the environment by helping cut greenhouse gas emissions.
Be a local in Niagara
Frequently thought to be the prettiest town in Ontario, it's no surprise that many tourists flock to Niagara-on-the-Lake for its tranquility and scenic views. A well-preserved village from the 19th century, it also happens to be in the heart of Ontario's wine region which makes it a perfect setting to enjoy the benefits of slow travel which is in keeping with your conscience. Plus, seeing the area from the view of your bike means you have a close up of the hushed sounds of nature and the opportunity of learning about the area with a knowledgeable guide to give more depth to your experience.
Go slow
For many of us, our everyday lives are often hectic and stressful so it's a welcomed treat not to have to rush around from one tourist attraction to another trying to see everything in one go. The length of a tour will determine how many wineries you visit but you can be guaranteed that your journey will take you to selected vineyards where you'll not only get the opportunity to sample quality wines, including Canada's unique ice wine, but also take the time to learn more about the types of grapes and their processes into wine. You can even stop and immerse yourself further by sampling local cuisine in the form of lunch or a cheese and wine combo to indulge yourself in the experience further.
By the time your tour ends, you'll have insider knowledge of what goes into producing wines in the area alongside a taste of local life while slowly traveling through the landscape on two wheels with someone local. What better way is there to embrace the culture, food and wine?
Links
Comments
Back