Top 5 Wine & Food Pairings
December 7, 2017 @ 9:53am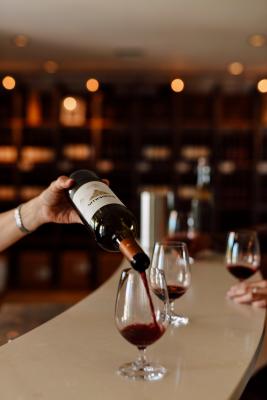 Top 5 Food And Wine Pairings
Hosting a party or a meal for your loved ones should be initiated with utmost care and planning. Apart from a great ambience, the most important part of the planning process is food and beverages. You can't go wrong with a great bottle of wine and some amazing food.
Having said that, there are numerous tips and ways to pair wine with its perfect counterpart food item. You can spend a great evening with a perfect combination of rich wine and some great company.
While it is great to experiment around and discover your personal favourite combination, we have a few wine and food pairing suggestions that are a sure shot success. These recipes are easy to make and tasty on the tongue. Go ahead and buy a bottle of Niagara VQA wine, whip up these dishes using your favourite Canadian cheese which is made exclusively from quality Canadian milk and guarantees you taste, purity and freshness.
1. Baked Ham and Egg Cup
A perfect tantalizing dish for a casual brunch with friends, family and food is Baked Ham and Egg Cup. Enjoy a lazy sunday devouring over this dish which has delicious ingredients like ham, spinach or arugula, sautéed mushrooms, shredded Canadian Havarti and egg.
You can serve this delicious dish with the 2016 Jackson Triggs Reserve Sparkling Cuve Close for a perfect Brunch!
2. Asparagus and Brie Wonton Tartlets
This is a sophisticated and simple appetizer which can be paired amazingly with Reif's 2016 Riesling. You can enjoy this yummy recipe which has Canadian Brie cheese, thawed wonton wrappers, asparagus. If you don't have Brie cheese you can also go for Canadian Camembert, Havarti or Gouda Cheese.
3. Beet Carpaccio with Parmesan
If you are hosting a wine tasting party, you should definitely surprise your friends with this delicious meal which is made with beets, baby arugula or baby spinach and Canadian Parmesan picked up from local farmer's market. Pair up this tasty dish with Konzelmann's 2016 Merlot. Instead of Parmesan cheese, you can also use Canadian Asiago or Sharp Cheddar. You will surely be the best host!
4. Bruschetta Pizza
For a perfect evening, pair Pondview's dragonfly Pinot Grigio and make a divine pizza. Easy to make and liked by everyone, try making this amazing meal and you won't be disappointed. Top it up with fresh diced tomato, onion, olives, basil and tasty Canadian Mozzarella. Instead of diced tomatoes, you can also use plum tomatoes places in colander to strain the excess liquid.
You can also use Canadian Friulano Cheese instead of the Mozzarella. You can also add 1 tsp hot green pepper hot sauce to the tomato mixture.
5. Banana Cream Cheese S'Mores
Treat yourself and your friends with a delicious banana cream cheese s'more and enjoy a sultry glass of Strewn's Select Late Harvest Riesling. A favourite among all, this delicious dish is made with delicious and healthy chocolate, mini- marshmallows, banana and Canadian Cream Cheese. How can you resist such perfection?
Go on and enjoy these exotic combinations. Trust us on these perfect pairings and enjoy an amazing meal!
Comments
Back