Rewriting the Rules of Pairing Wine
March 8, 2017 @ 9:11am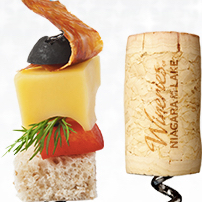 Rewriting the Rules of Pairing Wine
Just as Air Canada hires a sommelier to pair wines in the sky, should we still be following the same wine pairing traditions? There are longstanding traditions in the world of wine matching, which dictate the rules because of the simple reason that they've always just worked. These are the standby rules that let sommeliers and amateur wine enthusiasts match food and wine confidently. But while these traditions may deliver some successes, they can also lead to a lack of imagination.
So, what if you broke those traditional rules and were more daring with wine and food matches? Just like making unusual pairings with food, the most exciting part of wine matching is the potential to make some rather wonderful discoveries. The key rules are to just be bold, experiment, don't worry about making mistakes and trust your instinct.
These five wine pairing suggestions might sound off-the-wall, but they could be the most delicious combinations you've ever tried. Dare to give them a try?
Nicoise Salad with Blaufrankisch
You might automatically think of serving a white with a salad, but Blaufrankisch is an Austrian red that is fruity and refreshing. The vinaigrette dressing softens the acidity of the wine and make the wine taste extra smooth while bringing out its sour cherry flavors.
French Fries with Champagne
To those who haven't tried these two together it may seem like two worlds colliding. To those already in the know it is a delicious combination. A match made in heaven in fact. The bubbles and acidity will clean your palate and balance the oiliness of the fries.
Coffee with Port
When it comes to the traditions of pairing wine, experts tend to encourage people to enjoy their coffee separately. Coffee often gets accused of being a corrupting influencing on the taste buds. And yes, it does have an impact on wine tasting, but only in a good way. Coffee's delicate bitter flavors bring out the more attractive aspects of wine and the two actually make a good partnership. In fact, people often forget that wine and coffee are actually very similar, both are a natural product and we even talk about aroma and body and pick out different flavors with both. Instead of separating them, drink your coffee with a port or a quality red. But experiment and see what flavors work for you. After all, many of us like to take our coffee very differently.
Bacon and Eggs with Bordeaux
Enjoying a brunch of bacon and eggs with friends and you want a glass of something to go with it? Why not try a quality Bordeaux? Try a simple Claret, with its delicate fruity base and smooth tannins, it will create the perfect match. If you find it too heavy, then opt for a lighter red like a Pinot Noir.
Sushi and Sparkling Rosé
If you are serving sushi, then give your guests a dry sparkling Rosé. Its light acidity, delicate fizz and hints of cranberry and hibiscus slice through the fish's fatty texture, bringing out its salty and smoky flavors.
Don't Forget It's About Personal Taste
While connoisseurs may be horrified at certain suggested wine and food pairings, it's really all down to personal taste. If you find a combination that really excites your taste buds and makes your meal even more delicious, then what's wrong with that? The key thing to remember is that neither the wine or the food its paired with should overshadow the other. You need to find combinations that complement each other, like two old friends who only bring the best out of each other. Otherwise it's a waste of good food and good wine. But above all, be brave and give it a try, you never know what wonderful combinations await.
Comments
Back