We have an amazing new tour centre!
May 3, 2018 @ 2:00am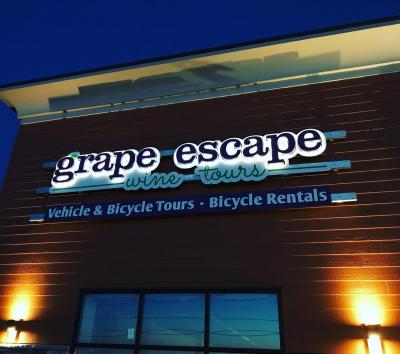 Warmer Weather Is Here !!! Come Bike With Us.
Spring may officially be here on our calendars but the cooler temperatures the past few weeks have meant a slower start to our Bike Tours! This upcoming week looks like we will be officially starting our tours in full swing and we are already getting lots of enquiries about our bicycle tours so if you are thinking of a weekend trip to Niagara and a Bicycle Tour get in touch now to begin planning your day!
We have an amazing selection this season with times to meet any requirement!
See the full list of our 2018 Bicycle Tours below,
Morning Winery & Cheese Tour – 3 Wineries
• Full tour of one larger winery
• Tastings at 2 smaller boutique wineries (including a Cheese Platter at one of the wineries)
• 9.30am – 1.15pm approx
• $59 + Tax per person (Niagara on the Lake Old Town Pick-Ups Only)
Ultimate Wine, Beer & Foodie Cycle Tour – 3 Wineries & 1 Brewery
• Beer Tasting at Craft brewery
• Wine, Cheese & Charcuterie at one winery
• Wine Tasting & Lunch at Inniskillin winery, (Salad & Entrée), includes one 4oz glass of wine
• Wine Chocolate Pairing at one winery
• 10.30am - 5.00pm approx
• $129 + Tax per person (Niagara on the Lake Old Town Pick up Locations)
• $149 + Tax per person (Niagara Falls/White Oaks/Hilton Garden Inn Pick up Locations)
Lunch & Winery Cycle Tour – 4 Wineries
• Full tour of one larger winery
• Tastings at 3 smaller boutique wineries
• Lunch at Caroline Cellars
• 10.30am - 5.00pm approx
• $99 + Tax per person (Niagara on the Lake Old Town Pick up Locations)
• $119 + Tax per person (Niagara Falls/White Oaks/Hilton Garden Inn Pick up Locations)
Mid Morning Winery & Cheese Cycle Tour Saturdays Only– 4 Wineries
• Full tour of one larger winery
• Tastings at 3 smaller boutique wineries (including a Cheese Platter at one of the wineries)
• 11.30am – 4.00pm approx
• $69 + Tax per person (Niagara on the Lake Old Town Pick up Locations)
• $89 + Tax per person (Niagara Falls/White Oaks/Hilton Garden Inn Pick up Locations)
Afternoon Winery & Cheese Cycle Tour – 4 Wineries
• Full tour of one larger winery
• Tastings at 3 smaller boutique wineries (including a Cheese Platter at one of the wineries)
• 12.30pm – 5.00pm approx
• $69 + Tax per person (Niagara on the Lake Old Town Pick up Locations)
• $89 + Tax per person (Niagara Falls/White Oaks/Hilton Garden Inn Pick up Locations)
Late Riser Winery & Cheese Cycle Tour Saturdays Only – 3 Wineries
• Full tour of one larger winery
• Tastings at 2 smaller boutique wineries (including a Cheese Platter at one of the wineries)
• 1.30pm – 5.00pm approx
• $64 + Tax per person (Niagara on the Lake Old Town Pick-Ups Only)
Comments
Back