Lunch & Winery Bicycle Tour
Bicycle Wine Tours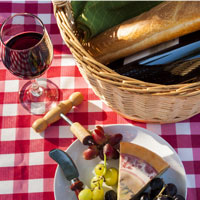 What better way to see Niagara Wine Country than by bicycle. Our experience tour guides will lead you through beautiful trails, along the Niagara Parkway and into many of the wineries in the area! Our fleet of bicycles are maintained to the highest standard and mainly consist of Fuji Crosstown 2 & Crosstown 3 to ensure your comfort for the 20km-25km ride!
Tour Includes:
Bicycle Rental (with small basket & bottle cage)
Helmet (feel free to bring your own if you prefer)
Bottle of water
Fun & Knowledgeable Grape Escape Tour Guide with you throughout your tour
Visit 4 award winning VQA wineries *Exact wineries will not be known until the morning of the tour*
Full facility tour at one of the four wineries to see 'behind the scenes'
Taste a minimum of 12 wines (including Icewine)
Delicious Lunch at Caroline Cellars Winery or The Harvest Barn
Complimentary pick up of any wine purchases made throughout the day
Shuttle Services:
So you dont have to worry about having to drive after your bicycle tour we have a number of Shuttle Service Options you can take advantage of which are listed below.
You can also meet us at our start location on the day if you already have a Designated Driver (this location will be advised 48hours before your tour)
If you are staying in Niagara on the Lake then we offer door to door service 7 days a week, If you are staying out of town then we offer door to door service on weekdays and, on a weekend you can meet us at one of our pre-selected departure point (as weekends are so busy and with increasing traffic we no longer have time to pick up from all hotels in Niagara Falls on Saturdays or Sundays)
7 Days a Week! - Complimentary Round Trip Shuttle Service;
Any Niagara on the Lake Old Town Location (5km Radius of Queen Street)
Weekdays - $15 per person Round Trip Shuttle Service;
Any Niagara Falls Downtown Location, Hotel, White Oaks Resort, or Hilton Garden Inn.
Weekends - $15 per person Round Trip Shuttle Service - You can meet us at one of these departure points on weekends, enter your choice as your pick up location on the booking page;
A - Marriott Gateway Hotel, 6755 Fallsview Bvd, Niagara Falls
B - Courtyard Marriott, 5950 Victoria Avenue, Niagara Falls
C - Ramada Plaza, 7389 Lundys Lane, Niagara Falls
D - White Oaks Resort, 253 Taylor Road, Niagara on the Lake
E - Hilton Garden Inn, 500 York Road, Niagara on the Lake
Tours Daily April through October – 10:45am – 5:00pm approx
** Bicycle Tours are conducted rain or shine - Please dress for the weather! **
** We do not include any Tour Guide gratuity in our pricing, we dont believe in prepaid gratuties and want to ensure you have a great day first! **
Sample Itinerary
Hotel Pick Up (10am Niagara Falls, 10.30am NOTL)
11.30am - Wine Tour & Tasting
1.00pm - Lunch
2.45pm - Wine Tasting
3.30pm - Wine Tasting
4.30pm - Wait for Shuttle (if required)
Return (4.45pm NOTL, 5.15pm Niagara Falls)
Booking Options
$109.00
Lunch Bicycle Tour including Shuttle Service from ANY Niagara Falls Hotel or White Oaks Resort/Hilton Garden Inn
$94.00
Lunch Bicycle Tour including Shuttle Service from any Niagara on the Lake Hotel or B&B or meet at Start Location