Gourmet Dinner & Winery Vehicle Tour
Vehicle Wine Tours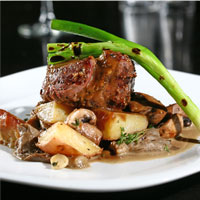 How about experiencing lots of award winning VQA wines from the region and then ending the day with an exquisite 3 Course Gourmet Dinner? Why worry about making dinner reservations when we can take care of all of that for you! The perfect way to celebrate an anniversary, birthday, or just the chance to get together with friends.
You will visit 3 different wineries along your route, at each stop you will recieve a Wine Tasting Flight of 3 different wines (a total of 9 samples throughout the day). Then we end the day with delicious 3 Course Gourmet Dinner at one of our favourite restaurants
Tour Includes:
Pick up and drop off from your accommodation (Niagara on the Lake or Niagara Falls)
Fun & Knowledgeable Grape Escape Tour Guide with you throughout your tour
Visit 3 (three) award winning VQA wineries - ITINERARY VARIES DAILY
Taste a minimum of 9oz of wine
3 Course Gourmet Dinner at OLiV Tapas Bar & Restaurant at Strewn Winery (Alternate Restaurant may be used at times)
One Glass of Wine is included with Dinner
CLICK HERE TO VIEW 2022 SPRING/SUMMER MENU
THIS IS A GROUP TOUR (YOU WILL BE PART OF A GROUP OF MAXIMUM 20 GUESTS)
IF YOU ARE LOOKING FOR A PRIVATE TOUR, PLEASE EMAIL OFFICE@TOURNIAGARAWINERIES.COM FOR A CUSTOM QUOTE
If you have visited us previously please let us know in the extra information box the wineries you have already been to and we will try our very best to plan a different route for you.
SUNDAY - FRIDAY DEPARTURE TIME - 2.30PM
SATURDAY DEPARTURE TIMES VARY BETWEEN 2.30PM - 3.30PM
** We do not include any Tour Guide gratuity in our pricing, we dont believe in prepaid gratuties and want to ensure you have a great day first! **
Sample Itinerary
Hotel Pick Up (2.15pm Niagara Falls, 2.45pm NOTL)
3.00pm - Wine Tasting
4.00pm - Wine Tasting
5.00pm - Wine Tasting
6.15pm - Dinner
Return to Hotel (8pm NOTL, 8.30pm Niagara Falls)
Cancellation Insurance
We offer Cancellation Insurance ($10 per person) for all Tour Reservations, this can either be purchased at the time of booking, or you can also add this on within 24 hours of making a reservation.
With Cancellation Insurance your are able to cancel your tour, so long as we receive at least 72 hours notice, and receive a FULL refund for the tour cost, less the Cancellation Insurance Fee. All cancellations must be made in writing, by email replying to your Tour Reservation confirmation. We will then confirm by email that your request for cancellation has been received and processed. When you receive this confirmation, the refund will typically show on your card statement within 5-7 Business Days.
See our Cancellation Policy below to decide if you would like to add this on;
Cancellation Policy
IF YOU BOOKED THROUGH A THIRD PARTY, THEIR CANCELLATION POLICY WILL APPLY
ALL TOURS ARE 100% NON-REFUNDABLE IF PURCHASED WITHOUT CANCELLATION INSURANCE, BUT CAN BE RESCHEDULED FOR ANY DATE IN THE NEXT 12 MONTHS SUBJECT TO AVAILABILITY.

WE NEED AT LEAST 24 HOURS NOTICE FOR ALL REQUESTS TO RESCHEDULE, WHICH MUST BE MADE IN WRITING, BY EMAIL.

ANY TOUR PURCHASED WITH CANCELLATION INSURANCE WILL BE 100% REFUNDABLE (LESS THE CANCELLATION INSURANCE FEE) IF CANCELLED WITH 72 HOURS NOTICE.

CANCELLATIONS MUST BE MADE IN WRITING, BY EMAIL.

We accept VISA & MasterCard. Prices are quoted in Canadian dollars unless otherwise stated. The individual booking the tour is ultimately responsible for payment for the entire group.
Booking Options
$179.00 / per person
Pick Up in Niagara on the Lake
$199.00 / per person
Pick Up in Niagara Falls