Taste the Season 2023
October 12, 2023 @ 10:47am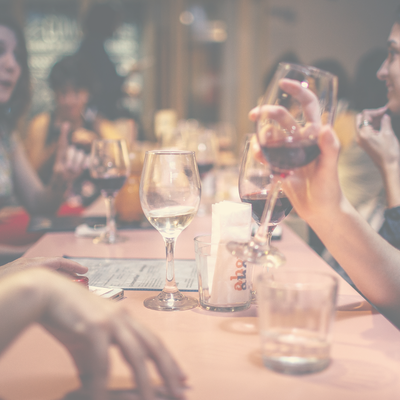 What could be better than a fall weekend afternoon with a few friends, some delicious food, and some fine wine?? How about if we do the hosting, and you don't have to drive home! Join us for Taste the Season 2023, as we guide you to 8 of our favorite Niagara on the Lake wineries, where each of them will prepare a culinary delight, perfectly paired with a VQA wine. This is a great way to discover some of the very best Niagara on the Lake has to offer!
Tour Includes:
Pick up and drop off from your accommodation (Niagara on the Lake or Niagara Falls)

Fun & Knowledgeable Grape Escape Tour Guide with you throughout your tour

Visit 8 (eight) award winning VQA wineries

Enjoy a Food & Wine Pairing at each location
CHECK OUT THIS SEASONS PAIRINGS;
BELLA TERRA VINEYARDS - MULLED WINE CHILI
Cabernet Merlot Reserve
Mulled Wine Chili with Crispy Cornbread
BYLAND ESTATE WINERY - GOBBLE GOBBLE
Byland Gamay Noir 2019
Bacon wrapped turkey breast with sriracha maple syrup
CHÂTEAU DES CHARMES - PUMPKIN SOUP!
Creamy Pumpkin Soup topped the 3-year-aged Mountain Oak Gouda paired with Estate Pinot Noir
DE SIMONE VINEYARDS - LET'S GIVE 'EM PUMPKIN TO TALK ABOUT
Indulge in the ultimate fall delight as you savor the velvety smoothness of our Pumpkin Soup with a tantalizing drizzle of creamy coconut milk. Every spoonful is a burst of warm flavours that dance on your taste buds, perfectly complemented by the aromatic notes of our 'strength' Gewürztraminer wine.
INNISKILLIN - PINOT NOIR & SOUP COMBO
Minestrone Soup paired with Reserve Pinot Noir Vegetarian, Gluten Free
IRONWOOD CIDER HOUSE - SOMETHING SWEET
Salted caramel brownie and Kirmizi our Red Wine Piquette
JACKSON-TRIGGS NIAGARA ESTATE - SPARKLING ICEWINE & CAVIAR
Celery Root Waffle topped with Smoked Sour Cream, East Coast Red Caviar & Green Sprouts paired with Entourage Sparkling finished with Icewine
KONZELMANN ESTATE WINERY - EYES ON THE FRIES
Enjoy crispy sweet potato fries with a trio or sweet, spicy and savoury dips paired with our Chardonnay Barrel Aged.
LAKEVIEW WINE COMPANY - ROOTED IN THE SEASON
Cold weather got you down? Warm up with Chef B's hearty Roasted Root Vegetable soup with a dollop of crème fraiche. Hearty caramelized root vegetables pureed into a velvety & creamy soup sure to chase away those winter blues. Perfectly paired with our limited edition 2022 Lakeview Wine Co. Kerner – a rare Niagara varietal.
MARYNISSEN ESTATES WINERY - RAVIOLI-NG INTO THE HOLIDAYS
Warm up this winter with Fried Ravioli served with a Marynissen red wine infused marinara sauce. This perfect seasonal comfort food will be paired with our Heritage Nanny's Blend, a red blend of Merlot, Cabernet Franc and Cabernet Sauvignon. Our pairing is vegan.
NIAGARA COLLEGE TEACHING WINERY & BREWERY - PORK ON YOUR FORK
Roasted Pork & Squash Puree Cornmeal Muffin paired with Balance Merlot
PALATINE HILLS ESTATE - DID SOMEONE SAY TURKEY?
Personal Turkey Pot Pie paired with Pinot Grigio
PELLER ESTATES WINERY AND RESTAURANT - AUTUMN SPICE CAKE
Autumn Spice Cake with Warm Whisky Cream Sauce and Candied Pecans, perfectly paired with our Signature Series Chardonnay, is a delightful culinary experience that encapsulates the essence of fall. This exquisite dessert offers a harmonious blend of flavors and textures that will leave your taste buds longing for more.
PILLITTERI ESTATES WINERY - WARM ME UP CHILLI
Join us for a bowl of hearty chili complete with 6 beans, sour cream, and chives paired with our Carretto Cabernet Sauvignon. Perfect for those 'chili' days in November.
QUEENSTON MILE VINEYARD - UN-BEEF-LIEVABLY GOOD SLIDER
Indulge in our "un-beef-lievably Good Sliders" crafted by Chef. These mouthwatering braised beef sliders are a culinary delight, perfectly complemented by the vintage of the century 2020 Mile Red. Savor the rich, tender beef nestled in a soft bun, while the wine's velvety notes enhance the experience. It's un-beef-lievably good!
REIF ESTATE WINERY - PASTA LA VISTA BABY!
Come cozy up with us and enjoy one of our favourite fall wines paired with a spinach and ricotta filled ravioli smothered in alfredo sauce and bits of pancetta. Our Chardonnay offers notes of pear, melon, and apricot with subtle notes of coconut and vanilla. Our Shiraz offers notes of plum and raspberry and soft notes of black pepper.
RIVERVIEW CELLARS ESTATE WINERY - PORCHETTA!
Porchetta and roasted red pepper sliders with garlic aioli paired with Barrel 81 2020 Cabernet Merlot
SHINY APPLE CIDER, HOME OF FRESH WINES - WE'RE HEATIN' IT UP!
Embrace the cool weather with us and indulge in Chef Josh's Chicken Taco Chili, a new take on a classic dish, with hearty flavours and just the right amount of spice to bring some warmth during the cooler season. Paired with our FRESH Wines Moscato Vidal blend, this pairing creates the perfect balance of sweet and spicy.
STREWN WINERY - BAKED MINCEMEAT (MINCED FRUIT) & APPLE SQUARE WITH SHORTBREAD CRUST
Baked Mincemeat Square paired with Ice-Breaker SLH Vidal Vegetarian
TRIUS WINERY AND RESTAURANT - SPICED PUMPKIN MUFFIN
Indulge in a Spiced Pumpkin Muffin adorned with luscious Cream Cheese Icing and topped with crunchy Candied Walnuts. This delightful treat finds its perfect match in the rich and velvety notes of Distinction Baco Noir 2021, creating a harmonious blend of flavors that will delight your senses.
WAYNE GRETZKY ESTATES - WHISKY JERK GLAZED CHICKEN THIGH
Enjoy the bold flavors of Whisky Jerk Glazed Chicken Thighs, featuring succulent bone-in, skin-on meat. Served alongside a vibrant Yellow Spanish Rice infused with a sautéed Pepper Melody, and enhanced by the smoky goodness of Charcoal and Charred Lime Aioli. Paired with refreshing 2021 Founders Riesling.
Links
Comments
Back