Celebrate the Holidays with a Wine Tour!
December 20, 2018 @ 9:14am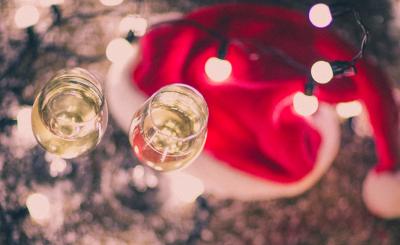 Bring in some Holiday Cheer with the Perfect Wine
When you were little, you remember the days leading up to Christmas. You baked cookies with your parents in the hopes that old Saint Nicholas would bring some holiday cheer. When you woke up, the cookies would be gone and you would find glorious presents under the tree and a giant smile on your face. Well, as you grow older, you experience Christmas a little different. Now, you're the one preparing for the holiday, wrapping presents for family and friends, and making sure everyone's checking their list and checking it twice. So, how do you celebrate your hard work? Why not trade in the milk for some delicious wine?
Celebrate the holidays with a Wine Tour
Taste the season this year with a winery tour of finely aged wine and some good food. Exploring the luscious vineyards will put you in the holiday mood as you enjoy some good Christmas cheer with your closest friends and family. Once you finish watching the magic of turning grapes into wine, you can retire to tasting rooms to dive right into the flavors of the holiday against the magnificent backdrops of the countryside. There's nothing like country views and a sparkle of wine to ring in the holidays and ultimately the new year.
The Perfect Wine for Your Holiday Party
During your tour, you'll also get a chance to pick up some delicious wines for your next holiday party. Taste what you like and then bring it home to share with your friends. If you're planning a Christmas party, wine will always make an excellent and elegant addition against classic holiday candle arrangements, home cooked meals, and Christmas floral patterns. Try some new wines and mix it with some of the favorite recipes of the old holiday. Whether its ham, turkey, or duck that you'll be serving, you can find a wine that complements your meal and impresses your guests.
For ham, you'll want a wine with a dash of sweetness. Try a Riesling, Pinot Noir, or Zinfandel for a great flavor profile. If you're serving duck, you should take into account the sauce that you're using. Generally, you will want to pair the historic meal with a historic wine and lean towards a Burgundy or Bordeaux to handle the roasted and smoked flavors of the duck. However, if you have a fruit-based sauce, you can also pair the meal with white wines such as Riesling and Sauternes to bring out the fruitiness. Lastly, Sauvignon Blanc is hands-down the best pick for working with turkey. You can also try a Shiraz if you want a red wine option for your guests.
Wine and Cookies While You Wait for Good Ol' Saint Nick
Not only is wine great for a holiday party, but it's also a good pairing for cookies as you wait for Saint Nick to come down the chimney at night. While you're snuggling by the fireplace, try to pair your favorite wines with Santa's favorite cookies. If you baked traditional chocolate chip cookies, try a Cabernet Sauvignon. The chocolate goes well with the red wine, especially if you have dark chocolate chips. For sugar cookies, pair it with a Prosecco as the hint of sweetness and bubbles goes perfectly with the delicate flavors of the cookie, and try a Riesling for Gingerbread cookies to bring out the spicy flavors of the ginger. Chardonnay also goes well with butter cookies because the treat fits perfectly with the flavors of vanilla and butter inside the wine.
Whatever you decide to do to celebrate the Christmas holidays, a glass of wine can always help to brighten the mood and bring some extra cheer. Have a happy holiday and enjoy the tastes of the season.
Contribution by Jenny Holt
Comments
Back