Sip & Sizzle May 2015!
April 18, 2015 @ 5:00am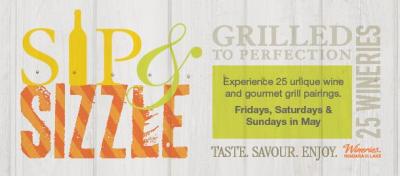 Spring has finally sprung to bounce us into another splendorous
"Sip & Sizzle"
#Please note: May 2nd & 23rd are sold out!
Each of the 25 participating wineries will pair a unique, gourmet grill inspired food with one of their amazing VQA wines!
To make sure you can enjoy all of the amazing food & wine that is offered thoughout this event we at Grape Escape Wine Tours are an official "Designated Driver" partner!
Transportation services include;
Return Transportation from your hotel either in Niagara on the Lake or Niagara Falls
Grape Escape Tour Guide with you thorughout the day
Planned route to your requested wineries to ensure you get to as many as you can!
Additional tastings at any of our partner wineries (subject to availability on the day)
Pricing;
$69 + Tax per person (Transportation Only - You can purchase your own passes)
$115 + Tax per person (Transportation & Discovery Pass)
$10 per person discount on these prices on Fridays & Sundays!!
Please let us know at the time of booking if you would like us to purchase the Discovery Passes for you!
Take a look through the delicious pairings for 2015 below....
2015 SIP & SIZZLE PAIRINGS
Please be aware that food pairings may contain peanuts and/or other tree nuts.
Comments
Back