Afternoon Vehicle Tour - With Cheese Pairing
Vehicle Wine Tours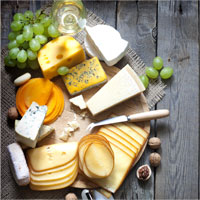 The most popular tour with our guests! The Afternoon Tour with Cheese Pairings gives you the freedom to enjoy a leisurely morning exploring the local area before beginning your tour. As this is our most popular tour our itinerary varies daily to provide great variety. We always try to include one of the larger properties along with 3 of the smaller boutique wineries to give you the chance to make your own comparisons!
Tour Includes:
Pick up and drop off from your accommodation
Fun & Knowledgeable Grape Escape Tour Guide with you throughout your tour
Visit 4 award winning VQA wineries *Exact wineries will not be known until the morning of the tour*
Full facility tour at one of the four wineries to see 'behind the scenes'
Taste a minimum of 12 wines (including Icewine)
At one of the wineries 3 wines will be paired with 3 delicious cheeses!
Tours Daily – 1.15pm – 5.00pm approx
** Please note that this tour only includes a Cheese Pairing at one of the wineries, no other food is included so it is best to have lunch before you arrive or bring snacks! **
** We do not include any Tour Guide gratuity in our pricing, we dont believe in prepaid gratuties and want to ensure you have a great day first! **
Sample Itinerary
Hotel Pick Up (12.30pm Niagara Falls, 1pm NOTL)
1.30pm - Wine Tour & Tasting
2.45pm - Wine & Cheese Tasting
3.30pm - Wine Tasting
4.15pm - Wine Tasting
Return (5pm NOTL, 5.30pm Niagara Falls)
Booking Options
$79.00
Pick-up in Niagara on the Lake "Old Town"
$94.00
Pick-up from Any Niagara Falls Hotel, White Oaks Resort or Hilton Garden Inn